Sorry for going mia for a few weeks there, I had a crazy month including but not limited to getting the flu, adopting 2 kittens, planning a wedding, moving, a new job, and a partridge in a pear tree.
Since I last posted, spring has sprung! Well, sorta…we had the most beautiful day on Friday in NYC, 70 degrees and sunshine…it's amazing to see the city transformed on those first few days of spring-like weather, the energy is palpable. Here's a pic from Central Park, almost a full moon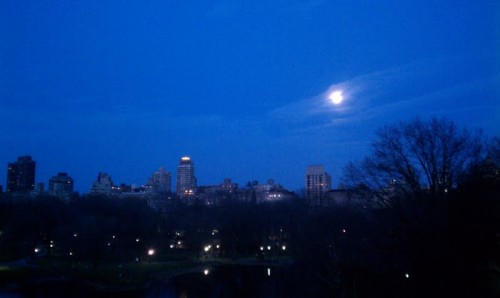 And then yesterday, we got snapped back into reality with a day of thunder-snow (I didn't know this existed), lightening and hail. Julian and I braved the storm and went out for a belated birthday dinner to this restaurant called "What Happens When." I was sold on the name alone, and the fact that it lead to the creation of a new game in our house, so that we've become pretty accustomed to starting 90% of our sentences with "What Happens When." ("What happens when someone forgot to take out the trash?" What happens when someone really wants a martini? What happens when someone shows signs of turning into a crazy cat lady?") It's weird, yes. But try it, it's oddly addictive.
What Happens When is a pop-up restaurant, a concept that is growing in popularity despite its controversial nature. The premise behind What Happens When is that over the span of its nine-month life cycle, there is a new theme or inspiration each month, including new decor, music, and menu. We caught the tail end of what they call Movement 2, which was forest-inspired a la "Into the Wild," with a menu to match (think fresh-water seafood, mushrooms and venison.) While the temporary space itself seemed very, well, temporary, overall it was a cool experience that I'd recommend checking out.
Check out this recent discovery, I love it, so peaceful and relaxing…the perfect thing to tide us over until spring weather is officially here!