Here is DishingWell's very first guest blogger!  This week's topic is devoted to wine and marks the beginning of what I hope will become a regular series on all things boozy.  (I may be slightly biased since my guest happens to be my husband) but I promise he won't disappoint!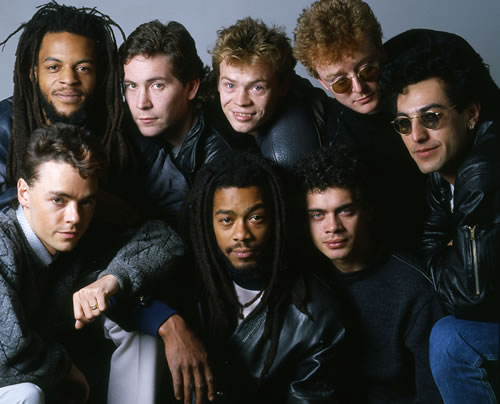 UB40 promo shot from showsaustralia.blogspot.com of a recent concert in Perth, Australia….
Does it really take 8 musicians to play "Red Red Wine"?
By this point in the summer, I've hit my limit on rosé. Around the beginning of August I realize that I like what rosé stands for (promise of warm weather, barbecues, beaches, red solo cups) more than I like the wine itself. So, August typically marks the time to seek out something seasonal but with more depth…enter light bodied reds. Aside from being seasonally appropriate, they're also very versatile and able to pair with just about anything on your table. Here are three good examples of affordable lighter reds that can be served with a chill and wind up being more interesting than most rosé:
1) Cru Beaujolais – made up of 10 districts just north of Lyon, the secret has been out about Cru Beaujolais for sometime now but for some reason, it still has a negative stigma. It's probably a combination of the fact that it's associated with its embarrasing cousin, Beaujolais Nouveau and the fact that it consistently falls short of its neighbor, Burgundy. Here's one that I like from the Moulin a Vent Cru.  MaV produces the most full bodied of the 10 Beaujolais Crus which range from fruity (Brouilly) to floral (Chiroubles) to earthy (Morgon)… so there's something for everyone.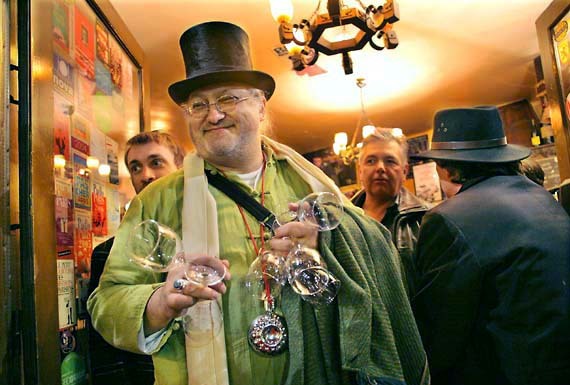 Beaujolais Legend, Professor Larue on his way to work
(Image via wineterroirs.com)
2) Jura – situated in the northern part of the France/Switzerland border, this has been a hotspot for producing natural wine for centuries. They're known for the vin jaune which is  allowed to oxidize during its time in the barrel. The top of the barrel is left off and the wine generates a yeast cap that gives the wine a nutty flavor.  As you might assume, all this talk about aging the wine with the help of a  fungal discharge has kept vin jaune from becoming 'the next malbec'. And their lack of commercial success means that they can be hard to find. Thankfully, you will find Jura reds. These are composed of the two red varietals, trouseau and poulsard.  These grapes make for very unique light bodied reds and although they typically don't go through the vin jaune process they still have an interesting oxidized character. Here's one of my favorites.
Vineyards in Jura from howstuffworks.com
3) Frappato – Sicily has developed a stereotype of producing big, rich reds wines. Fortunately, there are a lot of  Sicialian producers who are showing the full range of styles from this region. Frappato is one of those styles that bucks the stereotype. This is a red that is almost always served with a chill. As it warms, frappatos floral qualities come out along with its delicate tannins. Here is one from a very consistent producer.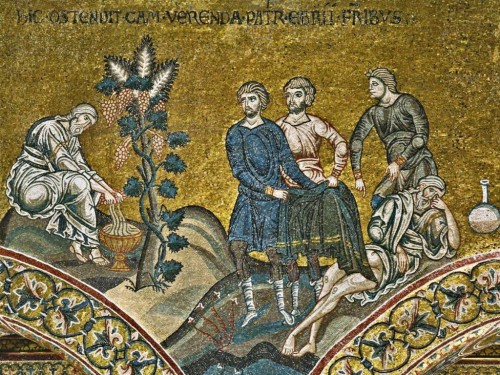 12th Century mosaic from a Sicilian Cathedral
(image via o1varavara.wordpress.com)
There are plenty of nice, affordable light reds from the states but it's more energy efficient for most of the country to drink European wine.  I came across Dr. Vino's post from a few years back that cites a study performed by National Geographic re: the carbon footprint of wine. The study reveals some shocking realities about drinking domestic, especially for those of us in the northeast. It's more carbon efficient to drink Bordeaux than Napa by a factor of 15!
(image via drvino.com)