"Summer afternoon–summer afternoon; to me those have always been
the two most beautiful words in the English language." – Henry James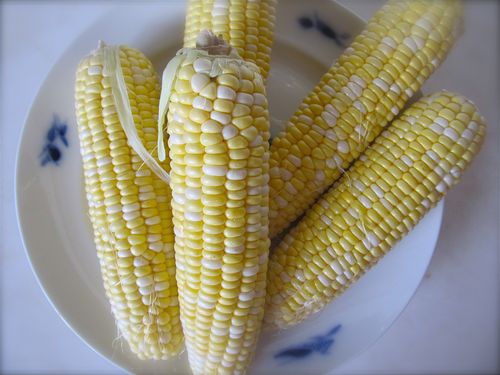 (image via http://www.marchedimanche.com)
This recipe comes from ABC Kitchen and I loved it so much that I made it twice last week. Fortunately Bon Appetit magazine featured it last August so you don't need to go to ABC to eat it. It's the perfect recipe to make now when corn is at its peak. The flavors of the manchego, lime and jalapeno pack a punch while still allowing the corn to stand out as the star ingredient.
Roasted Corn with Manchego and Lime
Recipe by Jean-Georges Vongerichten and Dan Kluger
Posted August, 2011 BonAppetit.com
Serves 8 
Ingredients:
6 ears of sweet yellow corn, unhusked
2 tablespoons extra-virgin olive oil
2 tablespoons (1/4 stick) unsalted butter
1 jalapeno, seeded, finely diced
1/2 teaspoon crushed red pepper flakes
1 lime, cut into 4 wedges
2 teaspoons finely grated lime zest
*1 cup finely grated Manchego cheese
1/4 cup thinly sliced chives
Sea salt and freshly ground black pepper
*If you want to make this recipe vegan you can omit the cheese or add nutritional yeast to will give it a cheesy taste.
*Try adding beans if you want to make it a little heartier and eat as an entree.
Preparation:
Preheat oven to 450°F. Roast unhusked corn on a baking sheet, turning occasionally until heated through and crisp-tender, about 15 minutes. Let cool. Shuck corn and cut kernels from cobs. Discard cobs.
Heat oil in a large skillet over high heat. Add corn kernels and saute until heated through and light-golden in spots, 3-5 minutes. Add butter, stir until melted. Season to taste with salt and pepper.
Transfer corn to a large wide bowl or platter, sprinkle jalapeno and crushed red pepper flakes over. Squeeze lime wedges over; sprinkle with cheese, chives, and lime zest and toss to coat.
Enjoy!
Corn is a great source of fiber, antioxidants and Vitamin B to name a few. For more info on the health benefits of corn see here.
Also, corn is one of the most common GMO crops in the US so if possible try to get organic (which by law cannot be GMO). A more in depth post about GMO and GE coming soon.