"If you're afraid of butter, use cream." – Julia Child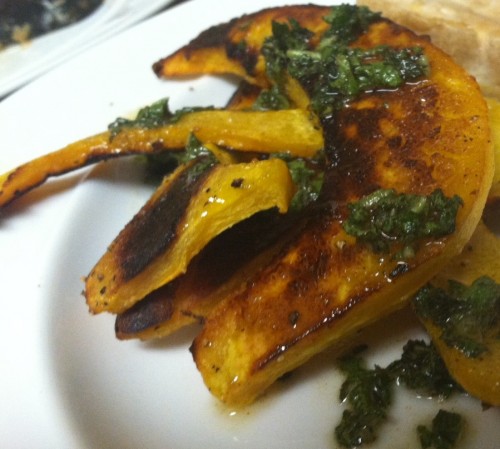 Since sage brown butter sauce happens to be one of my favorites, I've gotten creative with it since giving up gluten because most often you find it paired with pasta. (I have however tried it with gluten-free pasta and it does not disappoint!).  Brown butter sauce (aka beurre noisette) is a classic French technique that's easy to make (only one ingredient!) and is very versatile – it's used with fish, vegetables, dessert, the list goes on.  I especially love pairing it with squash.  This recipe gets you in the fall spirit and it's healthy (ok I know what you're thinking- I know "light" isn't the first word that comes to mind but it adds such a rich flavor that you only need to use a small amount – I'd take that any day over this butter substitute, my oleo of choice in my college days-ugh.) I used acorn squash because that's what I had on hand but you can use any kind you want.  Here's an article discussing which cooking methods work best for a variety of squash.
Ingredients:
1 acorn squash
2 tablespoons of unsalted butter
10-12 sage leaves, roughly chopped
Olive oil, 1-2 tablespoons
Sea salt and freshly ground black pepper to taste
 Since squash is universally one of the scarier things to cut,  a few notes on prepping. Here's a demo on how to cut acorn squash and butternut squash. (Instead of the smaller knife you can use a vegetable peeler and if you don't have an icecream scoop a spoon works just as well).
I cut mine into half moons (1/2 inch wide) but you can do whatever you like (cubes, skin on/cut in  half etc.) – just try to make the pieces relatively the same size so they cook evenly.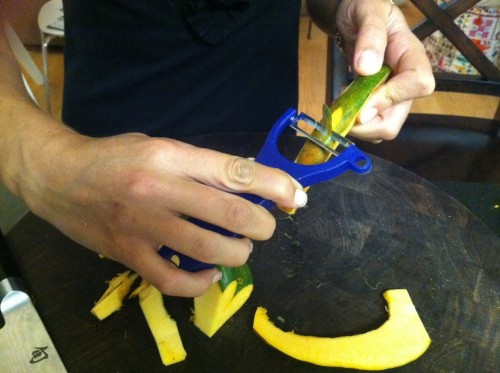 In the above video demo the chef peels before cutting but because acorn squash has grooves, I find it easier to peel after slicing-whatever method works best for you.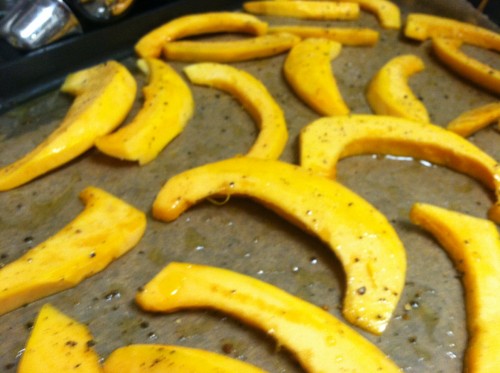 Preheat your oven to 450°F and prep the squash. Add the squash to a baking sheet lined with parchment paper and drizzle olive oil over the top. Toss to coat. Season with salt and pepper and put in oven until tender, about 18-20 minutes.
Sage brown butter sauce only takes a minute to make-literally-and should be served immediately (or refrigerated) so I make it when the squash is done.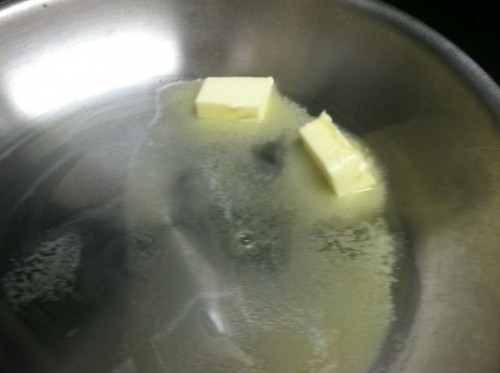 Add the butter (cut in even pieces) to a sauté pan over medium high heat. It's easier to use a light colored pan  so you can monitor the color.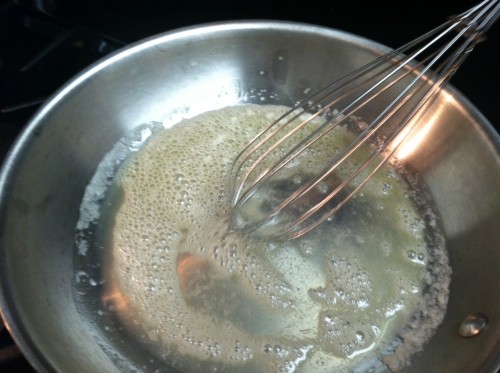 In less than a minute the butter will start to bubble (the bubbles are the milk solids separating from the butterfat). It may seem like the butter hasn't changed color because the white foam can obscure it so make sure to check – it only takes seconds to go from brown to burnt! Stir throughout to ensure even browning. I used a whisk but a wood spoon is better (it won't scratch the bottom of your pan).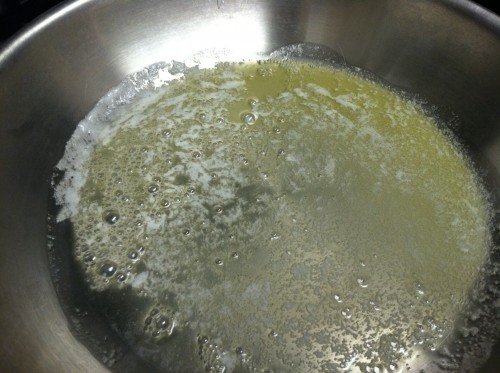 It will start to get darker and change to an amber color.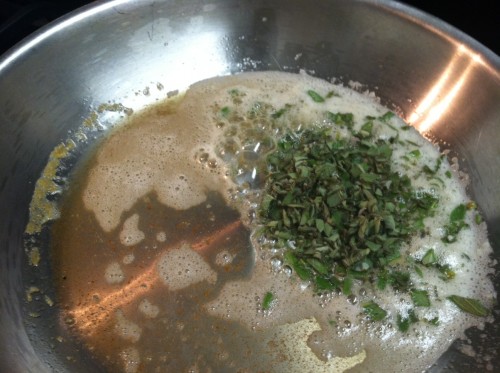 Reduce heat and add the sage when you get a nutty aroma and see little brown bits forming at the bottom of the pan.  Stir a few times, remove from heat and pour over squash. Serve and enjoy!
I used the camera on my phone so the color quality isn't the best.  See here for more pics.