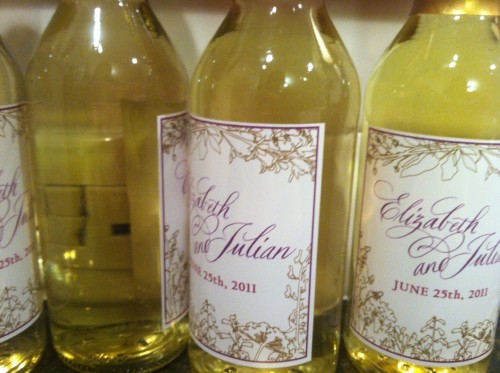 Here's a quick week night side dish recipe of sauteed mushrooms in white wine and herbs that we make at least once a week.  It takes only minutes to prepare but you would never know it from the complex umami flavor and the heavenly aroma that fills the kitchen during cooking.  We started calling these "wedding mushrooms" because now that they are in our regular dinner lineup we've been working our way through the remainder of our extra wedding favors (mini bottles of white wine) very quickly.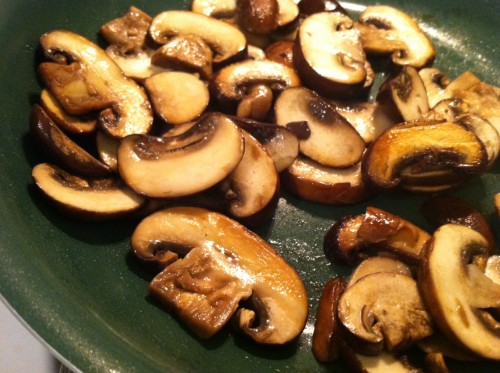 I used cremini but any mushroom (or a mix) will work and you can change up the herbs for variety – I used rosemary this time but also love thyme and parsley and use them frequently.
Prep: Dampen a few paper towels and use them to clean the mushrooms, wiping away any bits of soil. Try to resist the urge to rinse the mushrooms under running water, it will change their consistency and make them tough. Choose a larger saute pan if you have one so that the mushrooms have enough space.  Otherwise a smaller pan is fine (the difference is that in the smaller pan the piled mushrooms will steam instead of browning).
Wedding Mushrooms
Serves: 4 
Ingredients:
1 lb organic cremini mushrooms (usually  two 8 oz packages)
3 tablespoons extra virgin olive oil
1 tablespoon butter
1/4 cup white wine
1 tablespoon lemon juice
2 cloves of garlic, chopped
1 tablespoon fresh rosemary, chopped (or 1 teaspoon dry)
sea salt and black pepper, to taste
Instructions:
1. Heat olive oil on medium high heat until hot (you start to see little ripples).
2. Add the mushrooms and a dash of sea salt to help release water. Let them sit without moving them around until they become tender, about 10 minutes.
3. Give a quick stir, add wine, butter, garlic, and rosemary and cook for one more minute, tossing the mushrooms in the pan. Season to taste with sea salt and black pepper.
*optional – if you have time, cover and let the mushrooms sit (heat off) for a few more minutes. Otherwise serve immediately – either way they will be divine.
(Coincidentally NYTimes featured a good-looking sauteed mushroom recipe in yesterday's Dining section, this one is a bit richer with the inclusion of creme fraiche)
Health Note–
WhFoods.com says "Like most mushrooms, crimini mushrooms can provide us with unique immune system support. But contrary to public belief, these common button-type mushrooms have recently been shown to surpass some of their more exotic mushroom counterparts (like shiitake or maitake mushrooms) in terms of immune system benefits. We have seen several recent studies that placed button mushrooms at the top of the list with respect to regulation of unwanted inflammation."
To read more see here