I'm a fan of coffee (although "true" coffee lovers have challenged me on this since I take mine in about a 1:1 ratio of coffee to milk).  I'm not an addict, but I do love my one cup in the morning. Still, I get a lot of questions about non-caffeinated alternatives to boost energy in the morning and during the afternoon slump. I've done some digging myself (caffeine has little to no effect on me) and below are three natural and safe alternatives I like.  The best part is that they are all superfoods so in addition to being energizing they provide a ton of health benefits.
(image via Benefitsofhoney.com)
1. Bee Pollen – One of the most nutrient-dense foods on the planet, bee pollen is cholk-full of vitamins, minerals and enzymes. It's also a complete protein.  Bee pollen will give you a caffeine-like hit of energy but it also improves endurance, making it an ideal choice for the morning or to remedy a post-lunch food coma.  It's good to take before exercising since it enhances your body's ability to build muscle. Other benefits- improves digestion, treats seasonal allergies, and lowers cholesterol.  Also, it's an aphrodisiac and its often used to increase fertility. You can find it at most farmer's markets that sell honey – people tend to love or hate the taste so if you're in the latter group try adding it to a smoothie, yogurt etc.- OR you can find it in powder and capsule form. Here's one good site for ordering it in its natural form online and you can find high quality capsules here. Bee pollen is strong stuff so start with  1/2 teaspoon (or less!) to see how your body reacts and adjust from there.
(image via Gaiahealthblog.com)
2. Maca – A plant member of the cruciferous family (broccoli, cabbage, kale etc), maca grows in the Andes and has been used for centuries for medicinal purposes.  It's very nutritious and known for its energy-boosting effect and a whole host of other things like decreasing stress, improving memory and  strengthening thyroid function. Another plus is that it strengthens hair and nails. Like bee pollen, it's also great for hormonal balance – enhancing fertility, alleviating menopausal symptoms and an   aphrodisiac (noticing a pattern?).    The root is harvested, dried, and typically found in powder or capsule form. If you buy the powder, add it to a smoothie or other breakfast food. It is considered a warming food so it's especially good to incorporate in fall and winter.  Fortunately, maca has grown popular in the last few years so it's not hard to find (Whole Foods, online, etc). Here's a good brand you can order online. As with bee pollen, start with a smaller amount (1 heaping teaspoon) and build up to two as needed.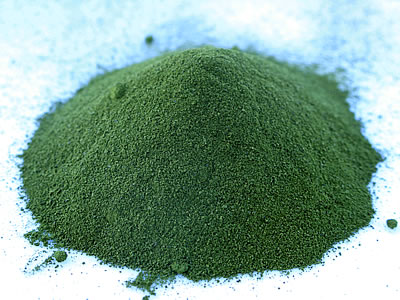 (image via ascendedhealth.com)
3. Phytoplankton – Despite being the smallest, phytoplankton are the most nutrient dense plant on earth. They grow in the ocean and contain every mineral needed by the body as well as several vitamins and essential fatty acids.   They will enhance anyone's diet and are especially helpful for vegans because they provide a complete protein source. Whereas bee pollen and maca can be slightly stimulating like caffeine, phytoplankton gives a steady, consistent energy throughout the day (aka "grounding energy").  Some other benefits: improved immunity, memory and digestion and decreased cravings and mood swings.  And yes, increased fertility. It has also gained popularity in the beauty world as a weightloss aid and a "fountain of youth" for your skin.  Phytoplankton comes in several forms but the one that gets the most press is Oceans Alive, a concentrated liquid. It's raw so more nutrients are preserved and it's easier for your body to absorb (ie it takes less time to get the energy boost). It's best to take in the morning and again, experiment with the amount – start with one drop and you can build up to the recommended fifteen drops per day. It has a mineral-y taste so most people mix it with juice, coconut water etc. Also, phytoplankton increases the absorption of omega-3 so if you take a supplement like fish oil it's helpful to take them together. *Since phytoplankton is high in vitamin K, check with your doc before taking if you are on blood thinners.
If you're good on energy and just looking for something non-caffeinated to satisfy your taste for coffee, check out Teeccino, an herbal coffee that's gluten-free. I've heard good things and just ordered some to try so I'll let you know! Here's a list of a few others.
Sources: David Wolfe "Superfood," Kris Carr "Crazy Sexy Diet"