"If you were to identify one taste that best represents New York, you could do worse than the everything bagel, with its frenetic coating of poppy, caraway, and sesame seeds, plus salt, garlic, and onion. An everything bagel, like the city itself, is not shy. It's brash, aggressive, over-the-top, and utterly polyglot, both an emblem of New York's immigrant past and a vehicle for its culinary future. To some, it's the only bagel."
– Robin Raisfeld & Rob Patronite, Grubstreet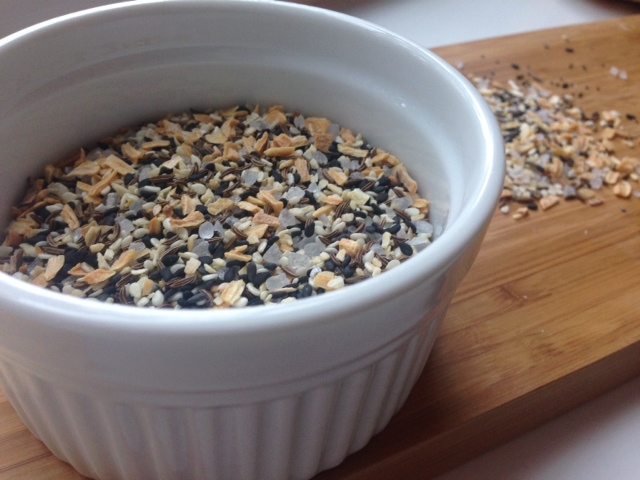 I eat seeds on a regular basis but it's easy to get stuck in routine and I find myself buying the same kinds over and over. Nutritionally speaking seeds are a good bang for your buck; despite their small size they are a great source of among others, healthy fats, vitamins and minerals. (See individual seed nutrition below). This idea evolved in my ongoing attempt to find creative ways to add a wider variety into my diet.
Before I stopped eating gluten I used to love everything bagels. The gluten-free world hasn't perfected that recipe yet (maybe it's the New York snobbery in me but I think it has a ways to go).  Last week while perusing Richard Blais "Try This at Home" cookbook I was inspired when I came across a recipe for an everything bagel dressing. I started to think about how versatile this spice blend is and began making a mental list of all the ways I could use it; soups, salads, dips, dressings, roasted vegetables, crackers, popcorn, hummus (pictured below)…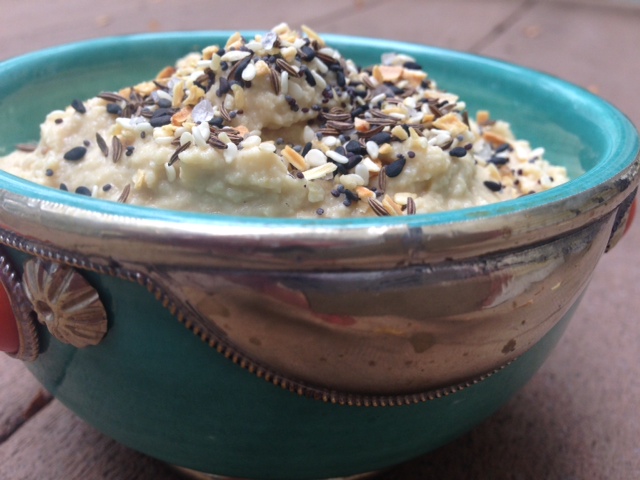 I started with a vinaigrette (recipe below) and when it only lasted 2 of the intended 7 days I decided to mix up a larger batch of the spice blend so it's ready to go.  You can also find a pre-made everything bagel spice blend here. Store in your fridge or freezer if you have space; exposure to heat, light, oxygen and time will expedite the breakdown of the oils (which turns them rancid) so they will last longer in a cool, dark storage area. The recipe below adheres to the classic everything bagel toppings but add/substitute flax or chia seeds for add health benefits.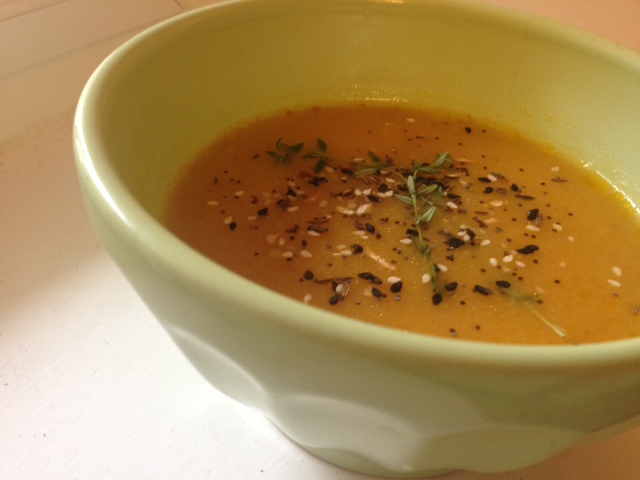 Basic Recipe for Everything Spice Blend
Yield: about 3/4 cup
2 tablespoons black sesame seeds
2 tablespoons white sesame seeds
2 tablespoons poppy seeds
2 tablespoons garlic flakes
2 tablespoons onion flakes
1 tablespoon caraway seeds *
1 tablespoon coarse sea salt
Combine all seeds and spices and store for up to 2 months or 6 months in the fridge.
*Note-3 teaspoons = 1 tablespoon; for the sea salt I recommend adding one teaspoon at a time and tasting; I find I sometimes need less than the full tablespoon depending on the type/coarseness of the salt I'm using
Everything Bagel Vinaigrette
1/2 teaspoon dijon mustard
3 tablespoons vinegar (I use champagne, red wine or sherry)
1/2 cup extra virgin olive oil
spice blend
salt and black pepper to taste
Whisk the mustard and vinegar together and add in the spices. While whisking, slowly pour the olive oil into the bowl until well blended. Season with salt and black pepper.
*Though named a seed, caraway is actually a fruit and in the culinary world is used as a spice. It also has excellent medicinal properties, especially for digestion.
Fun fact. Though the history of the bagel itself goes much farther back, the everything bagel was created in 1980 by David Gussin, a fifteen year old working in a restaurant in Howard Beach. As with many good inventions, the discovery was made by accident; after developing a taste for the mix of leftover crumbs he emptied from the toaster tray each night, David realized the blend would lend itself to a new bagel topping. See this New Yorker article to read more.